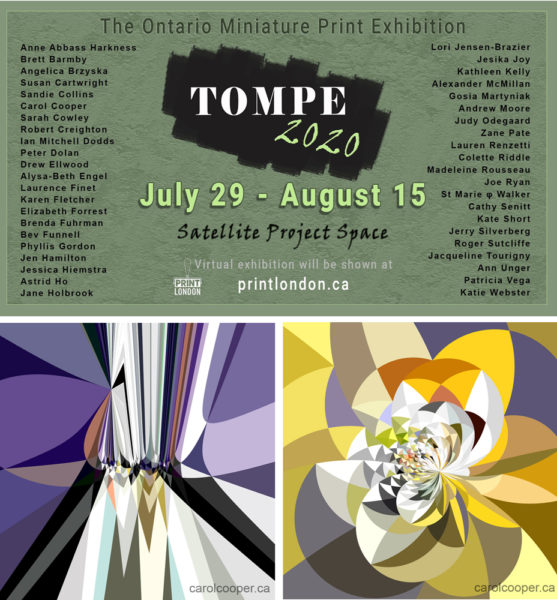 I am happy to announce that two of my Geometric Abstraction A/P prints were selected and displayed in TOMPE 2020 – THE ONTARIO MINIATURE PRINT EXHIBITION, London, Ontario, Canada from July 29th to August 15, 2020. This was the third edition of TOMPE.
Yellow Dahlia and Blue Persian Persuasion – (A/P – artist proofs, signed, archival digital pigment print on Hahnemühle German Etching 310g. paper) – 8″ X 8″ – 2019 [Sold]
TOMPE received 146 submissions from across Ontario, 81 prints in total were curated by three jurors who then selected the winning works in a blind jurying process.
The exhibition was open to the public from Wednesday, July 29, 2020 to Saturday, August 15, 2020 at Satellite Project Space (121 Dundas Street, London, Ontario) www.satelliteprojectspace.com. This year, because of Covid-19, they held a virtual reception online Wednesday, August 5, 2020 with many in attendance including participating artists & the jurors. It was hosted by Joscelyn Gardner, Chair of Print London. This was my first time attending a Zoom Virtual Opening and I really enjoyed it!
Many thanks to Joscelyn Gardner, Chair of Print London. The jurors of TOMPE2020 – Helen Gregory, Curator, McIntosh Gallery, Libby Hague, Independent Artist, Andrew Kear, Head of Collections, Exhibitions and Programs, Museum London. And to everyone who helped to install the exhibition and produce the fantastic virtual opening & catalogue!
To view all 81 amazing works in the exhibition and to read more about TOMPE2020, please check out PRINT LONDON's website www.printlondon.ca.
Congratulations to all exhibiting artists!