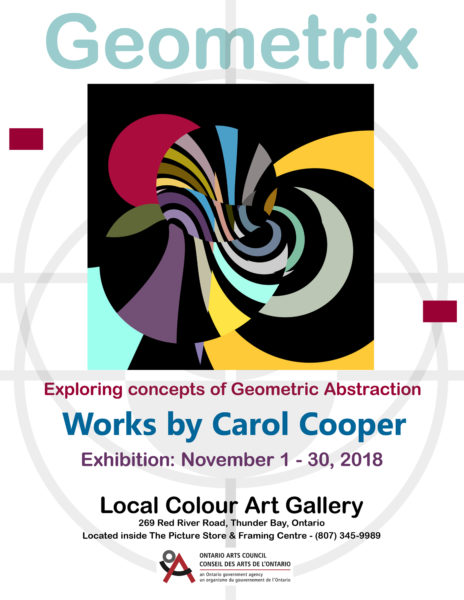 Featured Artist November 2018
– Carol Cooper
We are pleased to announce that for the month of November, 2018 we will be featuring the works of Local Thunder Bay Digital Fine Artist Carol Cooper. The title for Carol's exhibition is: GEOMETRIX: Exploring concepts of Geometric Abstraction. A selection of her works will be on display and for sale until November 30, 2018. We invite you to drop by Local Colour Art Gallery, located inside The Picture Store & Framing Centre, 269 Red River Road, Thunder Bay, Ontario – (807) 345-9989. Carol will also be participating at the upcoming Christmas Holiday Art Sale, Friday, Nov.23 -9:30am to 5:30pm & Saturday, Nov.24 – 9:30am to 4:00pm @ Local Colour Art Gallery. SAVE THE DATE! – Shop Local for the Holidays!
I would like to acknowledge funding support from the Ontario Arts Council, an agency of the Government of Ontario.