In Two Places – London, ON & Barbados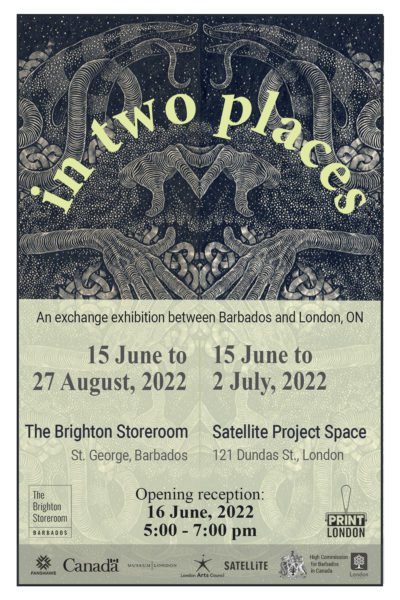 I was so happy to have been selected to participate in this amazing exhibition project. I would like to extend sincere thanks to project organizer Joscelyn Gardner and also thanks to Estelle Thompson and their teams at Print London / Satellite Project Space in London, Ontario and at The Brighton Storeroom in St. George, Barbados. And also a big thanks to all the participating artists, everyone who worked behind the scenes and also to the people who volunteered to sit the galleries during the exhibition! My appreciation!
In Two Places is an exchange printmaking exhibition that brings together the works of a group of sixteen artists from Barbados and Canada in these two locations. The works are being exhibited simultaneously at galleries in London, Ontario and St. George, Barbados.
Organized by Print London and The Brighton Storeroom, Barbados, this exhibition of original editioned works in a wide variety of print media aims to explore commonalities between Print London's member artists and printmakers from Barbados, as they negotiate their printmaking practices between two spaces.
EXHIBITING ARTISTS:
Sandie Collins, Carol Cooper, Dennis de Caires*, Alysa-Beth Engel, Joscelyn Gardner, Phyllis Gordon, Laine Groeneweg, Jen Hamilton, Versia Harris*, Mark King*, Gosia Martyniak, Eric Mummery, Bethany Pile*, Cindi Talbot, Estelle Thompson*, Kraig Yearwood*
(*Barbados artists)
A 50-page colour exhibition catalogue with essays by artist, writer/ curator, and Professor of Visual Arts at Western University, Patrick Mahon, and Canadian/Barbadian writer and art historian, Allison Thompson (PhD.) will be launched at the opening reception in both locations on 16 June, 2022. A public panel discussion featuring the catalogue contributors and participating artists will be held online on 25 June, 2022.
In Two Places – Satellite Project Space, London, Ontario, Canada – June 15 – July 2, 2022
In Two Places – The Brighton Storeroom, St. George, Barbados – June 15 – August 27, 2022
PRINT LONDON is a collective of professional London-based visual artists whose practices embrace traditional and contemporary print media and the multiple. We aim to stimulate printmaking in the region through promoting the discussion, production, dissemination and exhibition of print media and working towards establishing a print center in London.
For further information, please visit www.printlondon.ca
Facebook: https://www.facebook.com/printlondon.on
Instagram: @print_london
Exhibition Image credit (detail): Eric Mummery, Time Binding, 2021, wood engraving printed on Mitsumata tissue mounted on Kozo, 12" x 12"
(above photo – left to right) Three of my works that were displayed simultaneously at the Satellite Project Space, London, Ontario & The Brighton Storeroom, St. George, Barbados.
Title: Dioecious Love
Medium: Archival pigment ink print on 170 gsm Awagami Bamboo
Print size: 11" X 14"
Edition of 2

Title: Neither here nor there
Medium: Archival pigment ink print on 170 gsm Awagami Bamboo
Print size: 11" X 14"
Edition of 2
Title: Earth Rise
Medium: Archival pigment ink print on 170 gsm Awagami Bamboo
Print size: 11" X 14"
Edition of 2