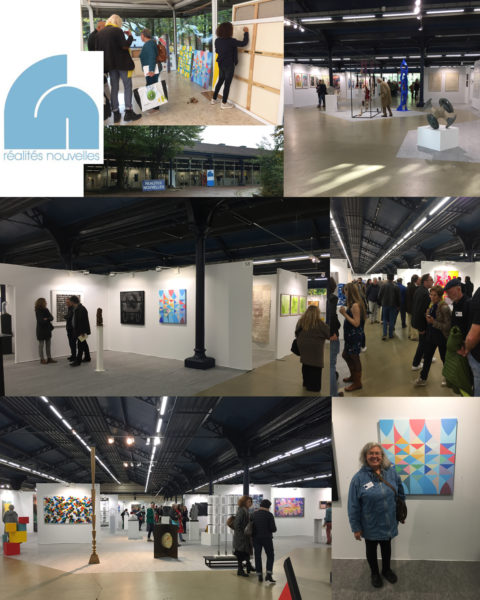 Last month I had the honour and pleasure of participating in the 73rd edition of the Salon des Réalités Nouvelles in Paris, France. I arrived in Paris on Thursday, October 17 and stayed until Wednesday, October 23, 2019. The exhibition was held from Saturday, October 19 to Monday, October 21, 2019, at the Event Centre within The Parc floral de Paris, a public park and botanical garden located within the Bois de Vincennes in the 12th arrondissement of Paris.
The Vernissage (Gala Opening Reception) was held on Saturday evening and the event centre was buzzing as both visitors and artists mingled and discussed the 350+ works of abstract art that were on display. Salon prizes were awarded and refreshments were flowing.
What totally amazed me was the fact that Friday morning the artists dropped their work off at a building close by the event centre and by Saturday morning at 11 a.m. ALL works of art were perfectly hung, sculptures were placed just so and the doors were open to welcome visitors. So organized & so professional!! Keeping in mind that this exhibition is run (organized and managed by committee members of the Réalités Nouvelles Association of artists) on a yearly basis each October since 1946!!! I extend my sincere thanks to all Salon organizers! Merci!
I would like to kindly thank & acknowledge support from the Canada Council for the Arts @canadacouncil #BringingTheArtsToLife and the Ontario Arts Council @ontarioartscouncil – Their support allowed me to exhibit "Delibluz", as well as travel to Paris to be present for the Vernissage & duration of the exhibition.
Je remercier le Conseil des arts du Canada et le Conseil des arts @Conseilartscan #LArtAuCoeurDeNosVies et de l'Ontario et à reconnaître leur soutien. Leur soutien m'a permis d'exposer "Delibluz", ainsi que de voyager à Paris pour assister au vernissage et à la durée de l'exposition.
~~~~~
Réalités Nouvelles
"The Salon des Réalités Nouvelles (new realities) was an exhibiting society devoted to pure abstract art founded in Paris in 1939."
"Artist Sonia Delaunay set up the society along with other artists working in an abstract style. The name reflects the fundamental idea that abstract art is a new reality because it does not refer to or imitate any existing reality.
After the interruption of the Second World War it was re-established in 1946, again with the help of Sonia Delaunay, and continues today. It provided in the post-war era the same focus for the purest tendencies in abstract art that Abstraction-Création had pre-war."
Quoted from: https://www.tate.org.uk/art/art-terms/r/realites-nouvelles
© Tate, London [2019]
~~~~~
If you would like to learn more about Réalités Nouvelles, please visit their website: http://www.realitesnouvelles.org/
I would like to acknowledge funding support from the Canada Council for the Arts
Nous remercions le Conseil des arts du Canada de son soutien.

I would like to acknowledge funding support from the Ontario Arts Council, an agency of the Government of Ontario.